Welcome to Rapture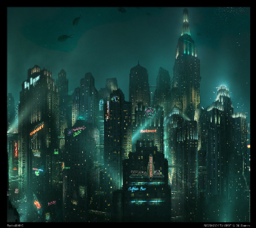 "Is a man not entitled to the sweat of his brow?
'No,' says the man in Washington, 'it belongs to the poor.'
'No,' says the man in the Vatican, 'it belongs to God.'
'No,' says the man in Moscow, 'it belongs to everyone.'
I rejected those answers. Instead, I chose something different. I chose the impossible. I chose..."
Rapture!
--------------------------------------------------------------------------------------------------------------------------------------------------------------------------------
Welcome to Rapture. A city where the artist can roam freely, the scientist can create with the sky as the limit, and the power is with the people. Such a place could never exist on land therefore it was literally built on the bottom of the ocean, as far away from the governing powers as possible. Out of every jurisdiction. The extreme of extremes. It is a massive place with buildings that tower over head and long walkways that link different areas of the city together.
Everything you could ever want you can find in Rapture. There are stores, restaurants, hotels, spas, housing units, art galleries, markets, sports centers and for those who enjoy a little bit of nighttime excitement there are bars and love-houses. Everyone is welcome in Rapture! There are no minorities. Everyone is equal. Everyone gets a fair share.
All of this is thanks to to the hard work and dedication of our founder Andrew Ryan!
At least..that's how things used to be. Before the revolution. On New Year's Eve, at 12:00 on the dot, just as the clocks were ticking down and the champagne bottles were about to be popped, explosions rang through the entire city. The whole foundation of Rapture was shaken to its very core. Those explosions marked the beginning of what would be a long battle throughout the streets between those who supported Andrew Ryan and those who supported a man named Frank Fontaine. Soon blood coated every wall on every corner of the city. The year 1959 was off to a great start.
Hundreds died and those that didn't die..were left to slowly go insane. Driven only further to insanity by their addiction to Adam; the genetical stimulant that once kept the wheels of Rapture turning.
The side-effect of this drug was both an overwhelming addiction to it and a range of horrible disfigurations due to the way the drug affected the human body. Those addicted where named Splicers and those Splicers are all that are left in this city. They do whatever they can to get their hands on Adam..even if it means killing each other. Many have banded together in order to overpower those who are weak, making them even more dangerous.
The revolution was two years ago. There are now those who are merely trying to get by and those who are trying to escape. But to escape means going through hell and back again...straight through the center of the city. Can you make it out?
Let's see, shall we?